Continuous and reliable temperature measurement solution for critical assets to increase uptime and ensure plant safety
In general, electrical and mechanical connections will heat up before they fail. With electrical connections, a load on the circuit combined with a poor connection will cause arcing, creating a hot spot. Mechanical components such as bearings will heat up with increased friction, or misalignment. While undetectable to the naked eye, these issues are clearly visible with thermal imaging.
Viper's Critical Asset Monitoring system utilizes FLIR thermal imaging cameras to monitor for temperature increases. The system will alarm, notifying plant engineering teams of a problem before it shuts down the line or a machine.
Typical Installation
This illustration is an example of system configuration for Viper's Critical Asset Monitoring using FLIR cameras (Ax8, A35 or A310). Viper's design positions the camera so that the asset(s) are in the field of view. The camera's digital data stream is connected via Ethernet to the ViperVision control system. ViperVision software controls all camera functions, collects temperature data, displays thermal images and analyzes data.
Think this could be the solution for your application? Click the button to complete a brief questionnaire and request a quote.
Application images of Viper's System Solution
Pad-Mounted Transformer*
*Hover over image for visual/thermal comparison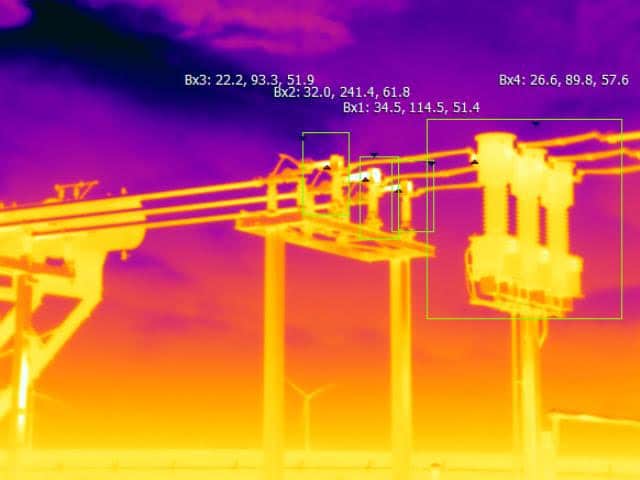 Substation Critical Assets*
Interested in Viper's System Solution?