FLIR A400/A500/A700 Image Streaming Thermal Cameras
Fixed Mount Thermal Camera for Complex Monitoring Applications
FLIR A400/A500/A700-Series Thermal Image Streaming Cameras offer the monitoring capabilities needed to accurately detect and identify thermal issues across manufacturing and industrial processes. With multiple field-of-view choices, multi-streaming capabilities, motorized focus control, and optional compressed radiometric streaming over Wi-Fi, these fixed-mount camera solutions can tackle the most complex remote monitoring objectives. Easy configuration allows you to tailor this monitoring system to your company's quality, productivity, maintenance, and safety needs.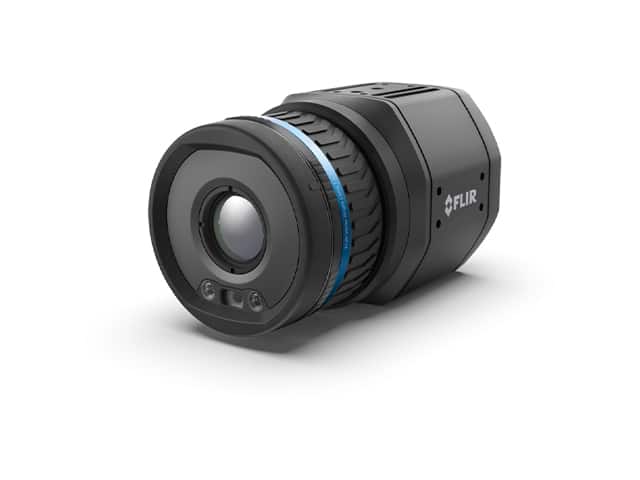 Powerful Thermal Streaming Solution with Simplified Integration
PLUG & PLAY WITH SUPPORT FOR MULTIPLE PROTOCOLS: GigE Vision and GenICam compliance for simplified integration with existing monitoring systems; supports GigE and RTSP video over ONVIF (advanced)
SEAMLESS INTEGRATION WITH EXISTING SYSTEMS: Compressed radiometric streaming cuts bandwidth, making it possible to add multiple cameras without the cost of expanding infrastructure (advanced)
WORLD-CLASS THERMAL IMAGING CAPABILITIES: Provides exceptional image quality with up to 640 × 480 (307,200 pixels) and superior measurement accuracy (<±2°C)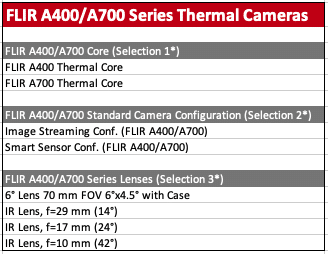 *Choose one in Selections 1, 2 and 3 for a valid system order.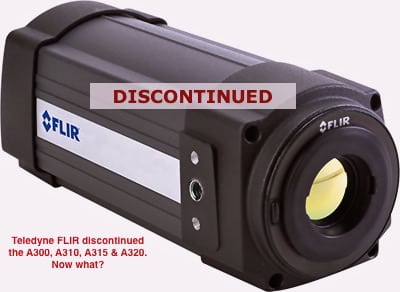 FLIR A300, A310, A315 Discontinued. Now what?
When Teledyne FLIR announced the discontinuation of the FLIR A300, A310, and A315, the product team released recommendations for replacement cameras. The FLIR A400/500/700 is on the list.
Specifications Overview
320 x 240, 464 x 348, 640 x 480

320 x 240, 464 x 348, 640 x 480

Power over Ethernet (PoE)

Temp. meas. >550℃ (1022℉)

Temp. meas. >1000℃ (1832℉)

Very wide-angle lens (>80 degrees)

Compressed 16-bit image streaming
The ViperVenom series of camera enclosures meet standards for an IP67 rating, and additional options are available for customization to your environment. Learn more>>
The FLIR FlexView lens allows you to switch from a 24° wide view to a 14° telephoto for accurate temperature measurement. Learn more>>
You may also be interested in...
Interested in Viper's System Solution?