FLIR A400/A500/A700 Smart Sensor Thermal Cameras
Fixed Mount Thermal Camera for Complex Monitoring Applications
The FLIR A400/A500/A700 Thermal Smart Sensor Camera has the features needed for complex monitoring applications, including critical infrastructure, product quality, and early fire detection. It can also be used for elevated body temperature (EBT) screening (when used as an adjunct to other body temperature screening tools).
The Smart Sensor configuration includes multiple measurement tools and alarms while providing analytics that are performed at the camera level for immediate results. With a range of lens choices, motorized focus control, and unrivaled connectivity, A400/A500/A700 cameras offer unmatched power and flexibility. Easy configuration allows you to tailor this monitoring system to your company's quality, productivity, maintenance, and safety needs.




Faster Decision-Making, Reduced Downtime, & Improved Product Quality
FLEXIBLE MEASUREMENT FEATURES FOR A WIDE RANGE OF APPLICATIONS: Includes options to adjust measurements and alarms based on a reference temperature source (advanced), for use in applications where a reference temperature is needed
ADVANCED ANALYTICS FOR IMPROVED DECISION SUPPORT: Edge analytics with features such as a polygon function (advanced) help you make immediate, informed decisions
WORLD-CLASS THERMAL IMAGING: Provides exceptional image quality with up to 640 × 480 (307,200 pixels) and superior measurement accuracy (<±2°C)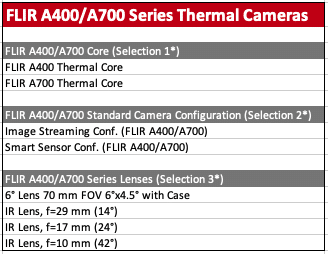 *Choose one in Selections 1, 2 and 3 for a valid system order.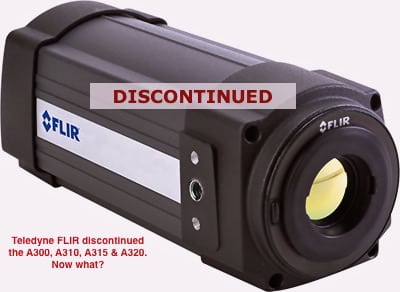 FLIR A300, A310, A315 Discontinued. Now what?
When Teledyne FLIR announced the discontinuation of the FLIR A300, A310, and A315, the product team released recommendations for replacement cameras. The FLIR A400/500/700 is on the list.
Specifications Overview
320 x 240, 464 x 348, 640 x 480

320 x 240, 464 x 348, 640 x 480

Upper measurement limit (℃ / ℉)

Lower operating temperature (℃ / ℉)

Power over Ethernet (PoE)

Complex object shape analysis

Relay (350 mA) fault output

Visual camera with MSX ®*

Built-in spot analytics function

Built-in area analytics function

Ethernet IP/Modbus TCP Server

Built-in fault diagnostics

Very wide-angle lens (>80 degrees)

Built-in line analytics function

Built-in polyline analytics function

Built-in polygon analytics function

Compressed 16-bit image streaming

External blackbody correction

Note: Checked functions can differ. Please refer to data sheets and user manual for more detailed descriptions.
The ViperVenom series of industrial camera enclosures meets compliance standards for an IP67 rating, and additional options are available for customization to your environment. Learn more>>
The FLIR FlexView lens allows you to switch from a 24° wide view to a 14° telephoto for accurate temperature measurement. Learn more>>
Interested in Viper's System Solution?