FLIR A310
Thermal Imaging for Critical Monitoring **Discontinued – Learn about recommended replacements.**
**Discontinued by Teledyne FLIR (as of 6/30/2022). Recommended replacement: FLIR A400 Smart Sensor.**
Fixed-mounted thermal imaging cameras like the FLIR A310 can be installed almost anywhere to monitor your critical equipment and other valuable assets. It will safeguard your plant and measure temperature differences to assess the criticality of a given situation. This allows you to see problems before they become costly failures, preventing downtime and enhancing worker safety.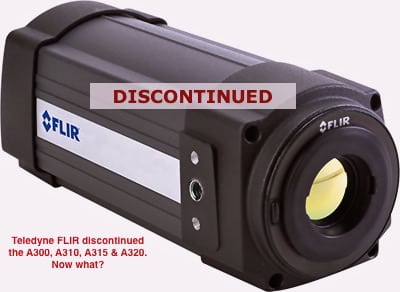 FLIR A300, A310, A315 Discontinued. Now what?
When Teledyne FLIR announced the discontinuation of the FLIR A300, A310, and A315, the product team released recommendations for replacement cameras. We've provided that information here.
Both thermal imaging cameras contain an uncooled Vanadium Oxide (VOx) microbolometer detector. They produce crisp thermal images of 320 x 240 pixel and detects temperature differences as small as 50 mK. They come with a built-in 25° lens with motorized focus. Other fields of view are available.
Stream MPEG-4 video over Ethernet to show live images on a PC. (640×480 with overlay up to 30 Hz) Ethernet-enabled, communication and power can be supplied with only one cable. Composite video outputs, PAL and NTSC compatible are available. Control the camera remotely over the Web using TCP/IP protocol.
Since FLIR A310 is Ethernet/IP and Modbus TCP compliant analysis and alarm results can easily be shared to a PLC. Digital inputs/outputs are available for alarms and control of external equipment. An image masking function allows you to select only the relevant part of the image for your analysis.
FLIR A310 comes standard with built-in analysis functions like spot, area measurement and difference temperature. Alarms can be set to go off as a function of analysis, internal temperature or digital input. The camera automatically sends analysis results, IR images and more as an e-mail on schedule or at alarm. Autonomous dispatch of files or e-mails, acting as an FTP- or SMTP-client is possible.
The FLIR A310 can be ordered already built into an environmental housing. A ViperVenom enclosure increases the environmental specifications of the FLIR A310 to IP67, without affecting any of the camera's features. It is ideal when the camera needs to be installed in dusty or wet environments. The housing is available for A300 cameras that are equipped with 15, 25, 45 or 90° FOV lenses. Users that want to build the camera within the housing themselves or that already have a FLIR A310 needing extra protection can order the housing separately as an accessory.
ViperVenom camera enclosures meet compliance standards for an IP67 rating, and additional options are available for customization to your environment. Learn more>>
We wanted to make you aware that Teledyne FLIR has discontinued the FLIR A300, A310, A315, and A320 models (effective 6/30/2022). So, what does this mean for you, and what are your options?
As these camera models have been sold since 2007, they are in use in many different applications. In 2020, FLIR introduced the FLIR A400/500. This camera offers some features not available in the 300-series and is an excellent option – and upgrade.
Previous Model
FLIR A300
FLIR A310
FLIR A315
Current Recommendation
FLIR A400 Image Streaming
FLIR A400 Smart Sensor
FLIR A400 Image Streaming
What do you need to do?
To plan ahead, we recommend reviewing the information for the recommended cameras (linked below). Then, let's
schedule a call
 to discuss the best fit for your application.
 Do you have a FLIR A310 that has been in use for a while? It's likely time for a 
calibration check
 to ensure measurement precision. Viper can help with that! Send it to our facility for a NIST Traceable Calibration, or schedule an on-site calibration check.
Please
contact us
with any questions. We are happy to help!
Sincerely,
The Viper Team
Interested in Viper's System Solution?